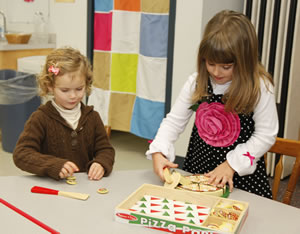 Our four-year-old program is designed for children who are four years old by September 1st and are toilet trained. The program provides a loving, nurturing setting to encourage individual development with an emphasis on appreciating God's world.

Learning is fostered across the curriculum following the Pennsylvania Early Learning Standards to allow the child to develop intellectually as well as socially. The daily routine consists of experiences that include the use of self directed learning materials, circle time, small and large group activities, Bible stories, prayer, music crafts, games, physical development, indoor and outdoor playtime, and snack.

This class runs three days a week on Mondays, Wednesdays, and Fridays, 9:00-11:30 AM or 12:30-3:00 PM. Class size is limited to 18 children with one teacher and one aide.