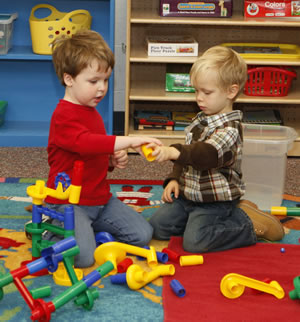 Our three-year-old program is designed as an introduction to preschool for children who are three years old by Septemeber 1st and are toilet trained. The program provides a loving, nurturing setting to encourage development at an individual pace.

Children gain an awareness of God's world and see themselves as a member of God's great family. The daily routine consists of experiences that include self directed activities, small and large group activities, circle time, Bible stories, prayer, music, crafts, games, snack and indoor and outdoor playtime.

This class runs two days a week on Tuesdays and Thursdays from 9:00 to 11:30 AM or 12:30 to 3:00 PM. Class size is limited to 15 children with one teacher and one aide.